In the 1850s, German traders first established a foothold on the northern and eastern coasts of New Guinea, as well as on the surrounding smaller islands. In May 1885, the German government entered into an agreement with the German New Guinea Company ("Neu Guinea Kompagnie"), under the terms of which the Company was authorized to acquire further lands as it saw fit. In return, the Company was to expand German influence within the area, and to build and maintain the local governmental institutions.
On 1 April 1899, the German government formally took control of the area formally administered by the German New Guinea Company, as it had become cost prohibitive for the privately funded Company to develop and maintain the colony. An Imperial Governor was appointed to govern the colony, and in a reorganization of the German holdings in the South and Central Pacific, administration of the German colonies in the Carolines (1899), Marianas (1899), and Marshalls (1906) was eventually transferred to the Imperial Governor of German New Guinea.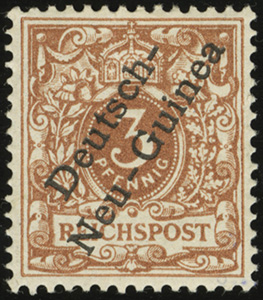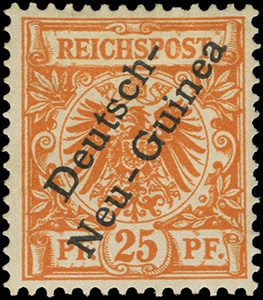 As with most of the German Colonies, German New Guinea initially used overprints of the Krone/ Adler series, before adopting the Yacht design that became standard throughout the Colonies.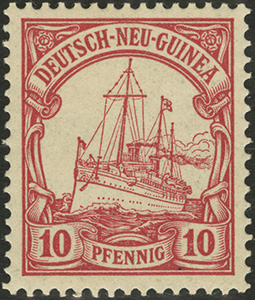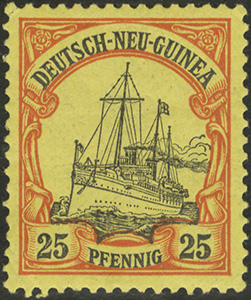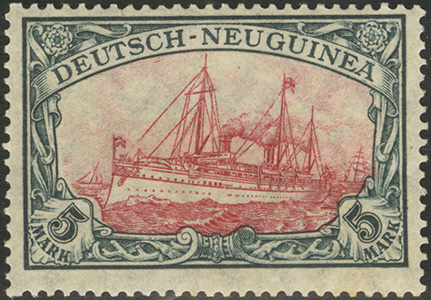 German New Guinea was quickly conquered by Australian forces at the outbreak of WWI, and as with all of Germany's colonial possessions at the time, it was not returned to German control following the war. Instead, it became a League of Nations Protectorate under Australian control.
For a Google Earth map of the post offices in German New Guinea, including samples of postmarks and photos from the period, see here.