Following the Axis occupation of Yugoslavia on 6 April 1941, the country was divided among Germany, Italy, Hungary, and Bulgaria.  The Macedonian area fell largely under Bulgarian control, with Bulgaria attempting to annex much of the territory as part of Bulgaria itself instead of merely treating it as an occupied territory.
On 26 August 1944, Bulgaria switched allegiances from the Axis to the Allies in an attempt to spare itself destruction at the hands of the Soviet Red Army.  Less than two weeks later, the Red Army entered Bulgaria on 8 September 1944.  At the same time, German forces moved into Macedonia to prevent the Soviets from advancing to the Adriatic.  
In an effort to prevent the German-occupied area from falling to the Soviets, Germany made an attempt to establish a puppet state, the Independent State of Macedonia.
In conjunction with the attempt to establish an Independent State of Macedonia, a single series of stamps was published.  The stamps are overprints of Bulgarian issues.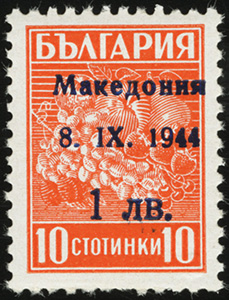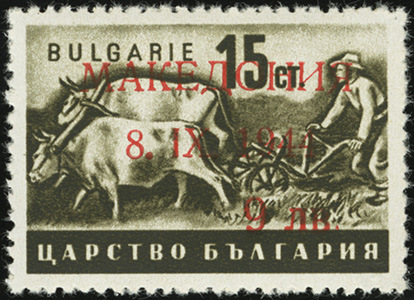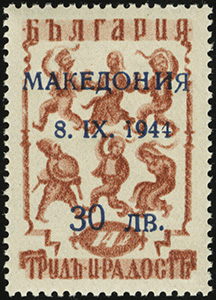 The Macedonian areas remained under German control for only 2 months before the Wehrmacht was forced to withdraw.