A German presence was first established in Samoa with the arrival of the J.C. Godeffroy & Son mercantile firm in 1857.  Over the next 40 years, German influence over Samoa would grow, eventually bringing conflict with Great Britain and the United States over control of the islands.
To alleviate these conflicts, the three parties entered into the German-British-American Agreement on Samoa on 2 December 1899, under the terms of which Germany was given exclusive control over those islands to the west of 171° west longitude.
In 1900, Germany began issuing postage for Samoa.  As with most of the German colonies, German Samoa initially used overprints of the German Krone / Adler issues, before switching to Yacht Issues.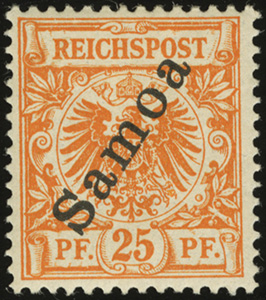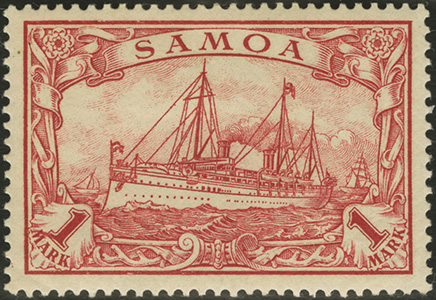 At the outbreak of World War I, German Samoa was quickly captured by Allied Forces, falling to a New Zealand-led expeditionary force on 29 August 1914.  Following the war, the territory was briefly under New Zealand's control, before becoming a League of Nations Mandate, a United Nations Trust Territory, and finally on 1 January 1962, the independent nation of Western Samoa.