Kotor is a coastal town at the southeast end of Kotor Bay in Montenegro.  After World War I, it became part of Yugoslavia.
When Axis forces invaded Yugoslavia in 1941, the country was partitioned, and Italy assumed control of Kotor.  Italian postage thus became valid for use in the area.  
Following the capitulation of Italy in 1943, Germany assumed control of most of Italy's former holdings in Yugoslavia, including Kotor (also known as Boka Kotorska, or Cattaro Bay).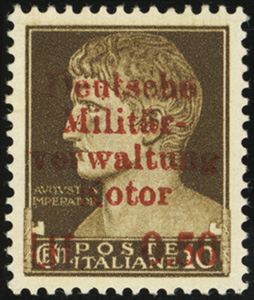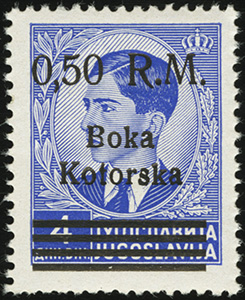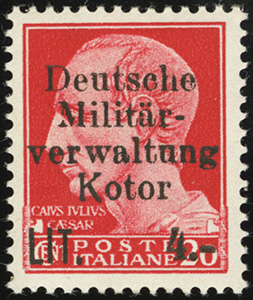 In October 1943, the German military administration established a postal administration for use by civilians in the area.  For the first months of this arrangement, a variety of stamps were used — stamps of Montenegro, Italian stamps without overprints, and local provisional issues.  
In January 1944, Germany issued two sets of stamps for use in the area.  These stamps are overprints of Italian and Yugoslavian issues, respectively.