On 29 June 1941, Joseph Terboven, Reichskommissar of the German military occupation of Norway, ordered the creation of a legion of Norwegian soldiers to fight alongside the German Army.  This legion became known as the Den Norske Legion ("DNL").
During the period in which Norway was run by a German puppet government, it issued a handful of stamps either commemorating the Norwegian Legion or to benefit the legion.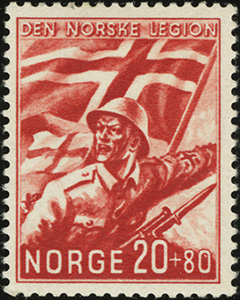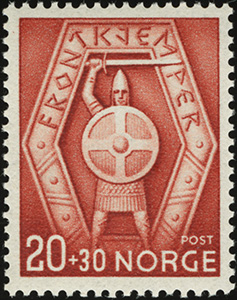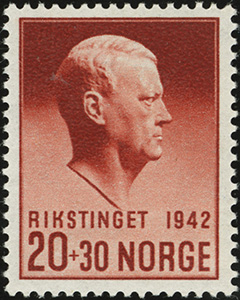 The DNL was originally envisioned by the Norwegians as a force to help Finland, as the Norwegian Legion had done during the 1939-40 Winter War.  This was not to be, however.
The German Army sent the DNL to Leningrad to serve as reinforcement during the lengthy siege of the city.  From February 1942 until March 1943, the DNL participated in the siege and surrounding engagements, suffering approximately 180 casualties in a force which varied from 600-1,200 men.
In March 1943, the DNL was disbanded, with any survivors who chose to remain with the German Army absorbed into the 23d SS Panzergrenadier Regiment of the 11th SS Volunteer Panzergrenadier Division Nordland.