In April 1943, the Galician Legion was formed from 80,000 Ukrainians from the Galicia Region. The intent of the Legion was to fight alongside Germany against the spread of Bolshevism. Upon competing training the Legion was incorporated into the German Army as the 14th Grenadier Division of the Waffen SS 'Galicia' (1st Ukrainian).
During the short period in which the Galician Legion was in existence, one set of propaganda labels was privately produced and sold as a means of fundraising to benefit the legion.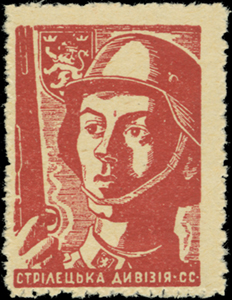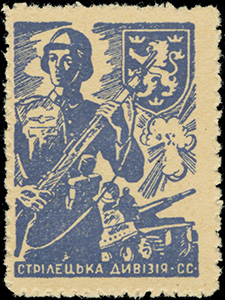 In July 1944, the Division joined the fighting around Brody, Ukraine. Over the course of several weeks, the Division became encircled by Soviet forces, until only small numbers of troops were able to escape. Approximately 10,000 Galician soldiers saw action at Brody, with approximately 2,000 killed and 900 captured. Following the action at Brody, the Division was reformed and sent to Slovakia. It would see action in Slovakia and Austria, but nothing as fierce as its first encounter against the Red Army.
In March 1945, the Ukrainian National Army was created.  The Galician Division became the 1st Division of the Ukrainian National Army, although the German Army still considered it as a German Army unit.  The Division surrendered to British and US forces in May 10, 1945.