PMGS StampFix
Automatically rotate & crop stamp scans
Detailed operating instructions can be found here.
PMGS StampFix is an app that rotates and crops scans of stamps.  It can process single stamps, batch process multiples stamp scans at once, or extract multiple stamps from a single scan.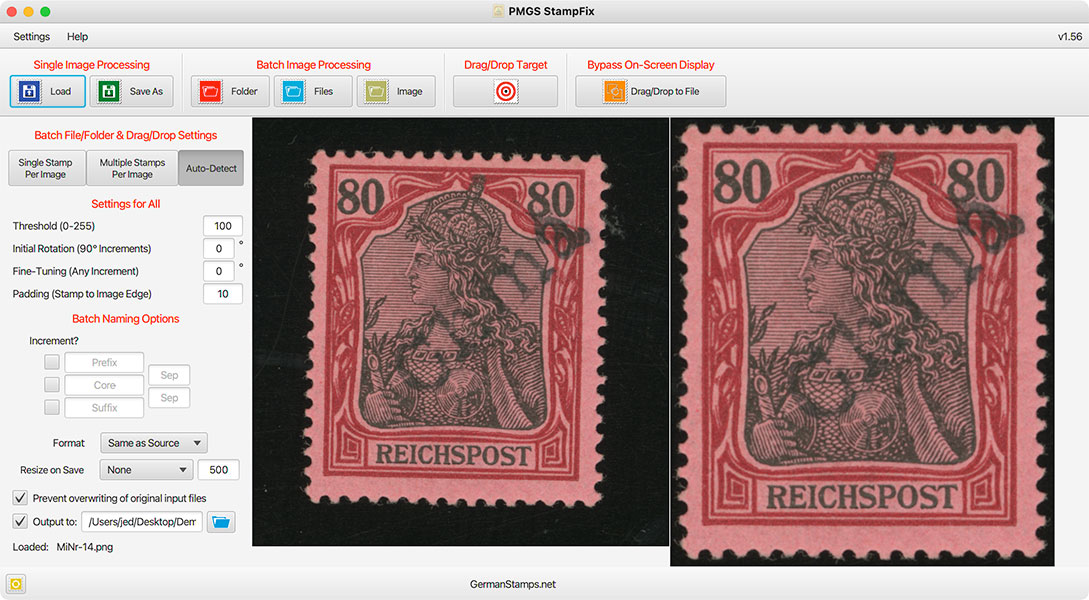 Shown below are detailed instructions on how to use the app.  In addition, at right you can find several demo videos and download links for the app.
The download area contains multiple versions, identified by version number (ex. 1.45).  This is because as features are added, the app uses more of your computer's memory.  In the event you are unable to run the latest version, older versions are available that, while lacking some of the latest functions, are lighter in size and memory requirements.
In addition, each version can be downloaded either with or without Java Runtime Environment (JRE) included.  JRE is required fo the app to run.  The version without JRE bundled should be used only if you already have JRE installed on your computer.  If in doubt, download the version with JRE bundled.
Detailed instructions on using the app can be found here.  Known issues are listed here.
If you have any questions, recommendations, feature requests, or bug reports, please use the contact form in the footer if this page to let me know.
Also, if you have an scan which you're unable to successfully process, please let me know.  If you send me the scan, I can usually find the correct settings to make it work.
Full package
(bundled with Java Runtime Environment, JRE, which is required for the app to run)
Light package (no JRE bundled with the app — for use only if you already have JRE installed)