Frame & Center Types of the German Colonies Mark Issues
The larger-value Colonial issues were printed in two parts, the frame and the center.  Across the colonies, there were three different frame designs and three different center designs.  Below is a brief overview of the types.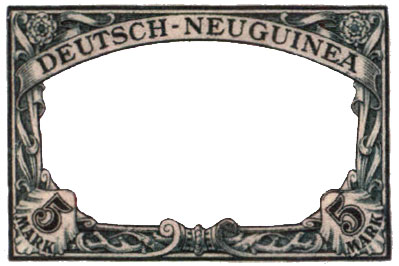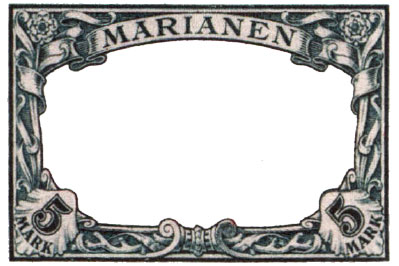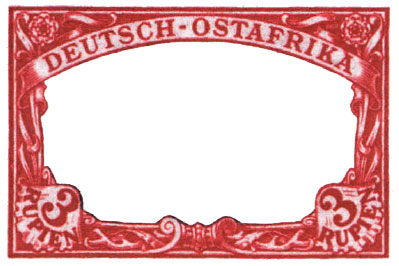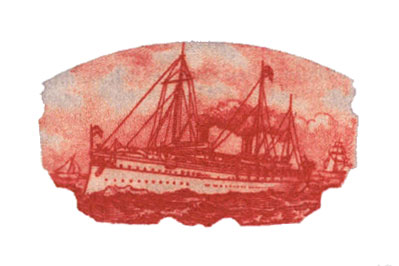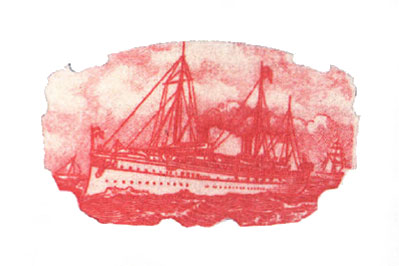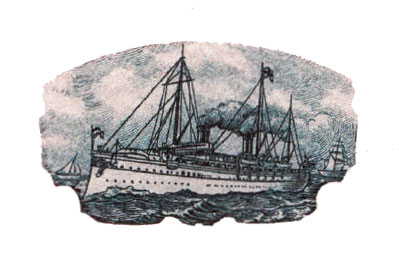 The Type II frames and centers are easily identifiable by the ribbon folds on the top frame, and the corresponding indentations in the center to accommodate the folds.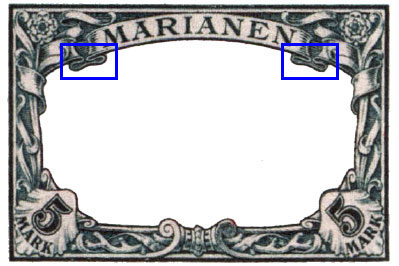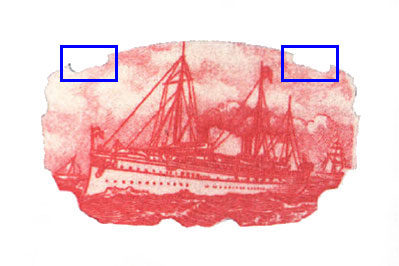 Type II Center Indentations
The Type III can be difficult to distinguish from the Type I.  The difference is in the size of the value areas of the frame — slightly larger on the Type III — and the corresponding indentation in the Type III center to accommodate the larger frame.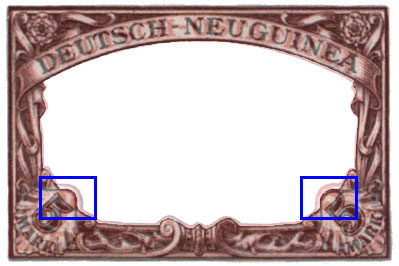 Type III Overlaid Over Type I
Note the larger Type III value area (overlaid in red)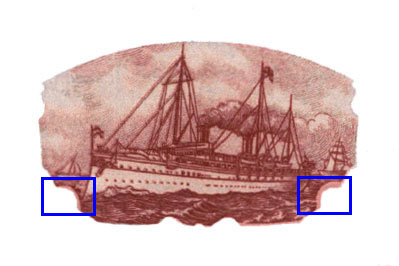 Type III Overlaid Over Type I
Note the smaller indentation in the Type I center (overlaid in red)
Demos using scans of actual stamps

Top of a Type I/Type III frame
Compare Type I/Type III center with Type II center

Type I & Type III frames
Note distances between bow/stern and edge of the printing
As a general rule, certain colonies used certain standard types. However, due to errors at the printers, several varieties exist with mixed types (example, Type I frame with Type II center).
MiNr. 23 II A II (Frame Type I, Center Type II)
MiNr. 23 II B I (Frame Type I, Center Type II)
MiNr. 23 II B II (Frame Type I, Center Type III)
MiNr. 21 PF I (Frame Type III, Center Type I)
MiNr. 39 II A II a (Frame Type III, Center Type II)
MiNr. 39 II A II b (Frame Type III, Center Type II)
MiNr. 39 II B II (Frame Type III, Center Type II)
MiNr. 32 B (Frame Type I, Center Type II)
MiNr. 16 (Frame Type II, Center Type I)
MiNr. 17 (Frame Type II, Center Type I)
MiNr. 18 (Frame Type II, Center Type I)
MiNr. 19 (Frame Type II, Center Type II)
MiNr. 22 I A (Frame Type II, Center Type II)
MiNr. 22 II A (Frame Type II, Center Type II)
MiNr. 22 II B (Frame Type II, Center Type II)
MiNr. 17 (Frame Type II, Center Type I)
MiNr. 27 A I (Frame Type I, Center Type II)
MiNr. 27 B I (Frame Type I, Center Type II)
Exceptions:
MiNr. 23 I A II (Frame Type I, Center Type II)
MiNr. 23 II B I (Frame Type I, Center Type II)
MiNr. 23 II B II (Frame Type I, Center Type III)
Exceptions:
MiNr. 21 I (Frame Type III, Center Type I)
MiNr. 39 II A II a (Frame Type III, Center Type II)
MiNr. 39 II A II b (Frame Type III, Center Type II)
MiNr. 39 II B II (Frame Type III, Center Type II)
Exceptions:
MiNr. 32 B (Frame Type I, Center Type II)
Exceptions:
MiNr. 15 (Frame Type I, Center Type I)
MiNr. 16 (Frame Type I, Center Type I)
MiNr. 17 (Frame Type I, Center Type I)
MiNr. 18 (Frame Type I, Center Type I)
MiNr. 19 (Frame Type I, Center Type II)
MiNr. 22 I A (Frame Type II, Center Type I)
MiNr. 22 II A (Frame Type II, Center Type I)
MiNr 22 II B (Frame Type II, Center Type I)
Exceptions:
MiNr. 17 (Frame Type II, Center Type I)
Exceptions:
MiNr. 27 A I (Frame Type I, Center Type II)
MiNr. 27 B I (Frame Type I, Center Type II)