1897 Overprint Issues
German Southwest Africa
This series was first available for use in July 1897.
The 25 Pf and 50 Pf values were only available in Berlin, but are found in used condition. Collectors sent unused copies to the colony, where they were placed on return letters to Germany and cancelled. They are very rare, however.
MiNr 1 ND (formerly MiNr 1 d) is now considered a reprint dating to 1899.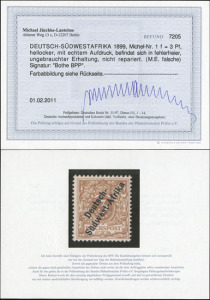 The first stamps produced especially for German Southwest Africa were overprinted versions of German Empire issues.