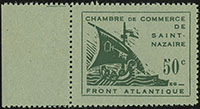 On 9 April 1945, these stamps were issued by the St. Nazaire Chamber of Commerce.
Shown below are the stamps of the GermanStamps.net Collection on the physical album pages.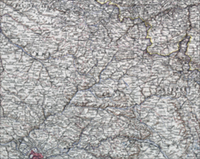 German-issued postage was limited to two general types — provisional postage issued during the initial stags of the occupation to compensate for a shortage of regular postage, and provisional issues used during the closing stages of the occupation, when resupply was limited due to the Allied advance.